Wine tasting is really an adult "sport" and wineries usually aren't set up with kid activities. If you have the children along what spots will be the least boring for the tykes?
Napa Valley
Castello di Amorosa is a replica medieval Italian castle (entry fee)
Sterling features a gondola ride up to the winery (entry fee)
V. Sattui has a deli and is a good spot for a picnic
Sonoma County
Benziger has beautiful grounds, vineyard tram tours, and a playground
Cline is in a park-like setting and has a California Missions Museum
Francis Ford Coppola has movie memorabilia, a restaurant and a swimming pool
Etiquette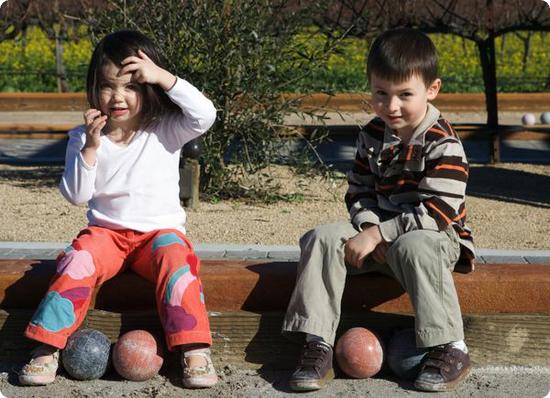 Many wineries have bocce ball courts
You can always let the kids throw bocce balls
at each other while mom and dad drink :)
Image from deliciousbaby.com
In any winery the children are likely to be bored while you're at the tasting bar. You are expected to keep you kids in control, safe, and not let them disturb other visitors. This means your concentration will be split between the wine and the kids. If you can't do this then maybe one parent should be with the children while the other tastes.
Family Unfriendly Wineries
Are there wineries that don't want kids? Well, yes, though most won't turn you away. If you're making an appointment to visit then ask. Some of the more high-end places like Opus One aren't really designed for children.
Alcohol-free things to do
These will appeal to the kids and adults. The redwoods park is free, the rest require an entrance fee.
Armstrong Redwoods near Guerneville
Charles Schultz Museum, from the creator of Peanuts, in Santa Rosa

Old Faithful Geyser near Calistoga
Petrified Forest between Santa Rosa and Calistoga
Safari West between Santa Rosa and Calistoga