No, they just don't seem to go together do they? But that's what we've got this weekend as the good ol' boys invade Sonoma County. A cold Bud, no thanks. How 'bout a nice single-vineyard old vine Zinfandel instead.
NASCAR is about four left turns around an oval at close to 200 mpg. Then four more left turns. Then four more. Repeat for four hours. The wine country has to be different (see also Watkins Glen in the NY state wine country). Infineon Raceway is a damn narrow windy up-and-down hill chaotic race track.
And the fans? Yeah, Bud drinkers next to the Chardonnay crowd. I mean the nearest winery is about a mile away! In the past they've set up an outdoor register on the road so folks can come by and get a case of wine and head back to the track. I'm guessing there ain't much of that in North Carolina.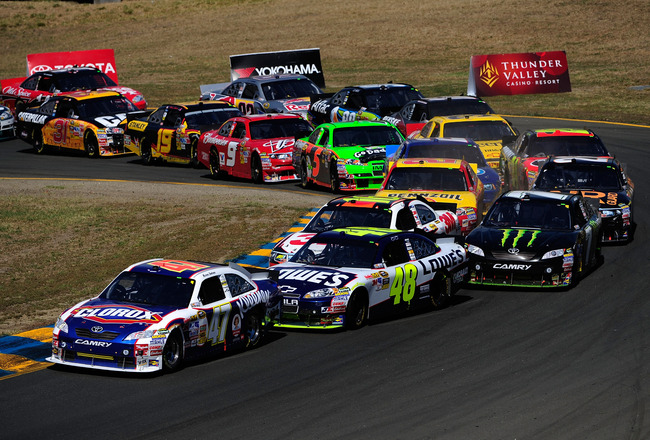 Yep, this is gonna be trouble
Image from bleacherreport.com
It's a race of attrition as drivers "trade paint" and knock each other out of the race and get into shouting matches later.
Also, probably not seen in North Carolina, but spotted at Infineon, was Queers4Gears, an organization hoping to bring NASCAR to some decidedly not redneck types.
Anyway, this is the weekend you avoid the roads south of the town of Sonoma--it's a damn mess!