W
here has the the California wine industry been and where is it headed? Here's a look at some of the trends in this trendy business.
Alcohol Levels
This has been discussed a lot. California has picked grapes super-ripe for over a decade now and has recently learned how to process the wines to take away the burning heat of too much alcohol. This hasn't returned varietal character to wines however, as a big blast of fruit-juiciness still wins out with many winemakers over delicacy, subtlety, varietal character, and balance. There are now wineries making a big deal out of their lower alcohol levels. You don't see anyone advertising their high alcohol. Is a backlash underway? I don't know about you but I often look at the alcohol level on a bottle before deciding to buy.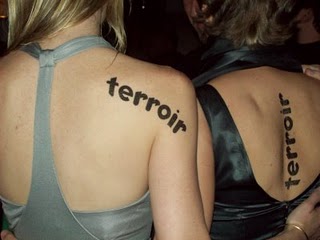 Yes, I suppose the blonde's
shoulder tastes different than the
brunette's back. That's terroir!


Image from grapesandgrainsnyc.com
It's a French term meaning the wine has specific characteristics from the specific plot of land it grew on. That's nice to know but I don't know why it's better. This has led to ...
Single Vineyard Designated Wines
Many conclude that a single variety from a single plot of land makes a better (and more expensive) wine than does blending from multiple vineyards. I don't know why this is supposed to be true. This theory is also used with appellation-specific wines. Saying, for example, that a Chardonnay from Russian River or Santa Lucia is always better than one blended from the two.
Smaller Sub-Appellations
This is another offshoot of Terroir-mania. Grape growing areas, appellations, are getting subdivided into smaller appellations. In Sonoma County the coastal growing areas of Russian River Valley and the Sonoma Coast may get further parceled. The argument being that there are areas of different soil, temperatures, topography and winds making for differences in the wines. I agree. Anyone who knows anything about Sonoma County will know you can drive ten minutes to get different weather during the summer and you can usually walk to a different soil profile from most vineyards. You may as well argue for a thousand appellations in the county. All this really accomplishes is confusing most consumers--when once you know you liked Pinot from the Sonoma Coast area you may one day find wines with Ft. Ross or Petaluma Gap on the labels and don't know where these come from.
Single Varieties, Rather Than Blending
American wine laws require 75% of a single variety to be in a wine for it to be labeled that way otherwise you have to call it something else. A label saying Cabernet Sauvignon has always sold better than one saying Red Wine. This rule has pushed a lot of people away from blending wines. So rather than getting a Syrah, Mourvedre, Viognier blend, for instance, you get mostly 100% Syrahs. Most grape varieties have there strengths and weaknesses so complementing varieties usually make a better wine. Luckily for us we are seeing more of the Rhone-style blends. What we aren't seeing is more Cabernet with Merlot and more Merlot with Cabernet blended in. Most Merlots needs some Cabernet!
"In" Varieties
Pinot Noir is in, Merlot is out--that's old news. Syrah is sorta in; maybe Malbec is. Some bet on Pinot Gris a few years ago and that isn't paying off as yet. Chardonnay has always been the in white wine with Sauvignon Blanc playing a distant second fiddle. Pity the poor grape farmer who has to guess years ahead of time and dump hundreds of thousands of dollars into what may be The Next Big Thing or not. Lots of people talk about what the Next Big Varietal will be in California. Meanwhile Chardonnay and Cabernet keep plugging along.
"In" Styles
Consumers have been told by the "experts" that they aren't supposed to like big, buttery, oaky Chardonnays, but they still (but may not admit to it). Or they aren't supposed to drink Merlot anymore. It's great to experiment with something new like unoaked stainless steel fermented Chardonnay, but you don't have to like it. Now many believe they are supposed to prefer the fruit-forward, high alcohol wines because Robert Parker does. Hopefully, all this will settle out to a nice middle ground rather than one extreme or the other.
The Opinions of Amateurs
So many wines, so little time!


Image from harvestmoonwinery.com
Trying to decide what wine to buy from the hundreds available used to be based on the "experts" from Wine Spectator and the other wine magazines plus a few wine competitions. Since the Internet spawned wine forums, blogs and twitter everybody and their brother can give a wine 92 points just like Robert Parker. Also, rather than hundreds there are now thousands of wines available from hundreds of boutique wineries. How can you keep up? You may want to use the local wine retailer as your trusted expert.
Eco/Green
Being green is good for you and the land. There's a bit of free PR with being able to say you are a green winery but that's okay because you're doing the right thing. However, being Biodynamic is just weird, but it is the in thing with many wineries. Sustainability is the next big thing and it's not just land stewardship because water use is getting to be a big deal. Water isn't just for irrigation, but also frost protection in the vineyards and cleaning in the cellar, etc. Making wine uses a lot of water.