Following are the biggest stories of 2011 in the wine industry from a Sonoma County perspective.
California wine exports
California wine had its best year for exports. Traditionally most goes to Europe, but now China, too. The weak dollar and booming Chinese middle class are behind this trend.
Wineries changing hands
Foster's split off their winery holdings into Treasury Wine Estates (Beringer, Chateau St. Jean, Penfolds, and others). They've since been going on a corporate hiring binge in Napa even with rumors they are up for sale.
Buena Vista, Gary Farrell, Landmark, Michel-Schlumberger, Laurel Glen, Seghesio all changed hands. Kunde and Sbragia have gone from family-owned to needing outside investors.
There will be more next year. It's the economy. I've heard "through the grape vine" of others who are seeking buyers or would like to sell if approached.
Wine Spectator's top wines of the year
A local wine was selected as their wine of the year, a Pinot Noir from Kosta Browne Winery
Another Pinot, from Dehlinger Winery, was ranked fifth.
Biggest guzzlers
The U.S. passed France as the largest consuming nation. The French still drink more wine
per person
but Americans are consuming the most overall. This trend in U.S. consumption owes it's existence to The Judgement in Paris, Robert Mondavi, and The French Paradox. The U.S. has been on this upward trend for a long time as the French have been decreasing consumption while increasing their intake of, um, Starbucks, Coke, etc. Our apologies.
Wine for the young'uns
In past years there was much made of social media and other ways of reaching out to the Millenials (those under 35). Now there's more of a move on to actually make wine they want to drink as not many 25 year olds are buying $100 Napa Cabernet. This is seen with the rise of Muscat-based wine and even sweet red wines selling for around ten bucks. And you can see it in the "hip" labeling.
Pennsylvania's wine kiosks
All alcohol sales in PA are controlled by state bureaucrats. One of their stupidest ideas was vending machines for wine. After wasting millions of tax dollars the project failed.
Another tough vintage for grape growers
2010 and 2011 weren't kind to the local wine grape growers as the weather conspired to lower the grape tonnage in both years. 2010 was cool and damp followed by a damaging heat spike. 2011 was wet at the beginning and end. I don't know how much this will affect the quality in premium wines, but it will quantity as there won't be as much available.
Italy had their smallest harvest in 60 years. French growers were calling 2011 a difficult year. Oregon had a cool, wet summer, but had a decent October and was able to salvage the harvest after fears that nothing would get ripe.
Wine packaging
Kegs, one liter boxes, refillable stainless bottles, paper wine bottles are all trying to make headway into the standard 750 ml glass bottle packaging.
China loves (inexpensive) Bordeaux
The Chinese became the biggest importer of Bordeaux wine by volume but not by value. Mostly it's the smaller, less expensive Bordeaux makers that have broken into this market.
Biggest marketing screw-up
Yes, they really did it.


Image from cbsnews.com
NY's Lieb Cellars produced a 9/11 Memorial Commemorative Chardonnay and Merlot. The grapes were "harvested just days after the 9/11 disaster anniversary" and the "grapes are grown just 90 miles from the site of the Twin Towers." What the hell were you people thinking?
Second biggest marketing screw-up
Central California's Sea Smoke winery anointed themselves Grand Cru status on their label. That should easily be worth an extra ten bucks a bottle, right? Or maybe they were just looking for free publicity from this stunt.
Passings
Jess Jackson who built the Kendall-Jackson wine empire.
Mike Lee, a founder and the first winemaker for Kenwood Vineyards.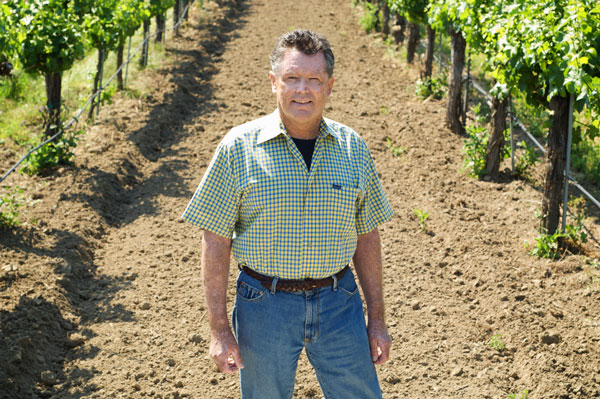 Good-bye Mike


Image from winebusiness.com