There are a number of 19th century wineries in Sonoma County still operating today (although all haven't been in continuous operation). Visit the early days of California's wine history!
Bartholomew Park
, Sonoma
Part of the original Buena Vista estate (see below), the birthplace of modern winemaking in California. Grapes were first planted here in the 1830s. The current winery was founded by the owners of nearby Gundlach Bundschu Winery (see farther below).
Buena Vista
, Sonoma
A Hungarian, Haraszthy, established BV in 1857. There were grapes planted in California earlier, but Haraszthy was about premium European grapes grown in the correct climate. He helped modernize winemaking. The winery has been through several owners with the current one having done a major, and much-needed, renovation a couple years ago. This is the where it all began.
Buena Vista Winery today
Fountain Grove
, Santa Rosa
This one is actually long gone though there are remnants of it's existence still around. I've included it just because of its fascinating history. This is the home of the Fountain Grove Round Barn (still standing), a religious cult (gone) and a dilapidated winery building (about to be taken out). It was the home of Kanaye Nagasawa, one of the first Japanese in America and definitely the first Japanese winemaker in the country.
Gundlach Bundschu
, Sonoma
Jacob Gundlach purchased the land in 1858 and brought over grape vine rootstock from France and Germany. In 1868 Charles Bundschu, a fellow German, joined and became a partner in the winery. Things were going well for the families until they lost most of their wine in the 1906 earthquake. They returned on a smaller scale until Prohibition put them out of business. In the early 1970s Jim Bundschu restarted the family winery that is now run by his son.
Gundlach Bundschu's Rhinefarm Vineyard
Hop Kiln
, Healdsburg (Russian River Valley)
Around the turn of the 20th century growing hops for beer was big business in Sonoma County. The Hop Kiln Winery, as I still call it, has been renamed by new owners to HKG Winery. The tasting room is in an old hop kiln used for drying hops.
Korbel
, Guerneville (Russian River Valley)
There's a lot of history with the Korbel property dating from the last half of the 19th century. Logging, cigar box manufacturing(!), sparkling wine innovations, ghost stories, and "creative" ways to stay in business during Prohibition. The Korbel family sold the winery to the Heck family in the 1950s. Korbel gives free historical tours.
Korbel
Simi
, Healdsburg
Simi has been in continuous operation since 1876.The old stone cellar from 1890 is on the property. They opened a tasting room in the 1930s after surviving Prohibition. The daughter of the founder ran the winery from 1904 until retiring and selling it in 1970. During the 1970s and 80s a couple pioneering female winemakers put Simi on the map for premium wines.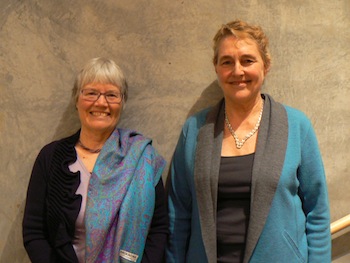 MaryAnn Graf & Zelma Long, winemakers emeritus
Image from winebusiness.com